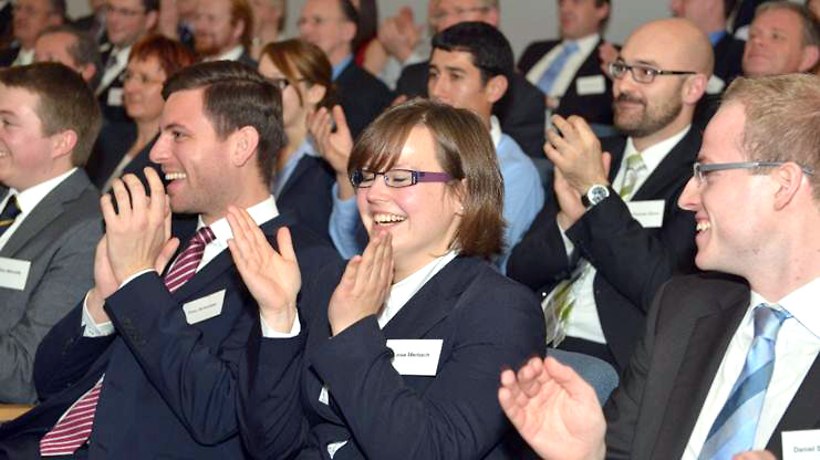 Our prize winners 2010
The first prize of a scholarship coming to a total value of 4.800 Euro was awarded twice due to the outstanding quality of both projects (instead of a second prize). The two first prizes went to Mirjam Kleinknecht (University of Hohenheim) and Philipp Wilde von Wildemann (University of Stuttgart). Mirjam Kleinknecht's in her bachelor thesis dealt with the topic "Yield Regulation in a Riesling vineyard by using a grape harvester ". In his student project Philipp Wilde von Wildemann designed a "tool to measure the height of stubbles when testing cutter bars of combines"
The third prize, a scholarship of 250 Euro per months of a duration of 12 months, went to a student from the USA. Matthew Wold (North Dakota State University) convinced the jury with his "Design and Development of a Continuously Variable Transmission (CVT) and Front Axle for a Quarter Scale Tractor".
The fourth prize, 200 Euro for 12 months, was awarded to Markus Kubach (University of Kassel) for his project "Agglomeration of compost".
Next to the scholarship, the CLAAS Foundation also awarded bonus prizes to the value of 1.000 €. For their team project "Untraditional parts in grain harvest" Sergey Nikolaevich Byul´dyajev and Alexey Sergeevich Mozerov (Stately Agrarian Kuban of Krasnodar, Russia) received a bonus prize in the category "Internationality".
Florian Schramm (Technical University of Braunschweig) had written a convincing essay on a "concept development of a new mowing system for large areas" and was presented with the "Innovation" bonus prize.
Kai Christoph Anke (University of Applied Sciences Osnabrück) received a bonus prize in the category of "Special Engagement" for his thesis "Site-specific nitrogen fertilization of rape seed (Brassica napus L.) by using a CROP Meter and analysis of the nitrogen requirements based on biomass ".
Martin Ilgenfritz (University of Stuttgart) also won a bonus prize in the category "Special Engagement" for his student project " Student project: Consequences of the running direction of AS Tyres ".