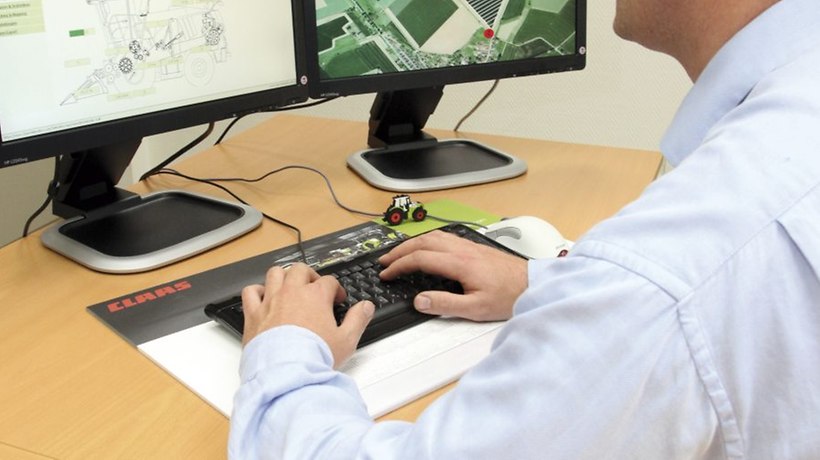 Data protection
CLAAS Foundation – Privacy Policy
Privacy policy
The CLAAS Foundation takes the protection of personal data very seriously. The CLAAS Foundation wants you to know what data is collected, when it is collected and how it is used. The CLAAS Foundation applies a range of technical and organizational measures to ensure compliance with privacy rules, both by the CLAAS Foundation itself, and by its external service providers.
All CLAAS Foundation's web activities are carried out in accordance with the applicable legal provisions on the protection of personal data and data security. The CLAAS Foundation takes precautions to protect personal data from loss, destruction, falsification, manipulation and unauthorized access. This document contains information on how your data is collected, processed and used.
I. Responsible entity for data processing operations
The responsible entity for this website is The CLAAS Foundation, Mühlenwinkel 1, 33428 Harsewinkel. See the site notice for further information.
II. Data protection officer contact details
For any questions or comments on data protection, please contact the CLAAS Foundation at the following address:
CLAAS Foundation
Frank Klüsener and Sylvia Looks (Board of Directors)
Mühlenwinkel 1
D-33428 Harsewinkel, Germany
Email: stiftung@claas.com
III. General information, log data
As a general rule, you can visit this website without telling us who you are. No personal data will be collected or saved in this situation.
IV. Collection, processing and use of personal data
"Personal data" refers to all information regarding an identified or identifiable natural person. An identifiable natural person is one who can be identified directly or indirectly, in particular by being linked to an identifier such as a name, an identification number, location data, an online identifier, or one or more factors specific to the physical, physiological, genetic, mental, economic, cultural or social identity of the natural person. This includes your name, address, telephone number and email address, for example.
We collect, process and/or use personal data only if you have provided it to us voluntarily, for example when setting up, entering content for or making changes to a contractual relationship between you and the CLAAS Foundation, or signing up for personalized services, or when submitting an enquiry to us via the website. Your personal data will only be used, if you gave your consent for receiving a newsletter e.g.
The next section of the document describes the services and contact channels the CLAAS Foundation uses when collecting, processing and using personal data. The purpose of processing the data is also explained.
1. Contact form
When you contact the CLAAS Foundation using the contact form, along with the information you provide voluntarily and the actual content of your message we require some essential details, as follows:
Title, name
Address
Email address
Mandatory fields are flagged with an asterisk. Fields with no asterisk are optional.
This data is processed so that we can respond to your enquiry, address you correctly and send you our answer.
The legal basis for this data processing activity is Art. 6 (1) (f) GDPR. Our "interest" as referred to in Art. 6 (1) (f) is communication with our customers and potential customers.
2. Newsletter
The annual newsletter can be read on the website.
After the grant of scholarships each scholarship holder will be asked via email, if the automatic sending of the annual newsletter is requested. After your written consent, you will receive the newsletter regularly. Therefore we need the following data: email address, title, first and last name. The saved data is used exclusively to provide this service in accordance with your consent. You can unsubscribe from the newsletter at any time in writing or by phone. If you unsubscribe from the newsletter, your personal data will be deleted unless other retention period regulations apply.
The legal basis for this data processing activity is your consent (Art. 6 (1) (1) (a) GDPR).
V. Deletion of personal data
The CLAAS Foundation processes and stores personal data only for the period necessary for the purpose, or if retention is mandatory under European directives and regulations or other laws and regulations applicable to the data controller. If the purpose of storage no longer applies, or upon expiry of the retention period required under a European directive or regulation or other applicable laws or regulations, the personal data is blocked as a matter of course, or deleted in accordance with legal provisions.
VI. Voluntary provision of personal data
If you provide data to us voluntarily, e.g. in forms, and this data is not required for the performance of our contractual obligations, we will process the data on the basis of the assumption that the processing and use of the data is in your interest.
VII. Storage of your personal data
Your information is stored by the CLAAS Foundation on specially protected servers. Through appropriate technical and organizational means, data on these servers is protected against loss, destruction, access, modification or sharing by unauthorized persons. Access to your data is restricted to a small number of authorized persons only. Such persons are responsible for the technical, business or editorial support of servers. Despite regular checks, however, it is not possible to guarantee complete protection against all possible risks.
The transfer of the CLAAS Foundation's website and your data entries on the internet is generally unencrypted. The possibility of third parties viewing and/or accessing the transferred data cannot therefore be excluded. The CLAAS Foundation recommends that you take this into account when deciding whether to send data over the internet, and what data to forward in this way.
VIII. Data recipients / passing on of data
As a general rule, data you provided to us is not passed on to third parties. In particular, your data is not passed on to third parties for their advertising purposes.
The CLAAS Foundation may, however, use service providers for the operation of these web pages. Personal data may come into the possession of a service provider in this context. We select our service providers carefully, particularly with regard to privacy and data security, and we take all steps required under privacy legislation to ensure legitimate data processing.
IX. Communication of data to a third country or to international organisations
No data is communicated to third countries (states outside the European Economic Area (EEA)).
XII. Data subject rights
You have the right to be informed of personal data regarding you under Art. 15 GDPR, the right to rectification under Art. 16 GPDR, the right to erasure ("right to be forgotten") under Art. 17 GDPR, the right to restriction of processing under Art. 18 GDPR, the right to data portability under Art. 20 GDPR and the right to object under Art. 21 GDPR.
You also have the right to lodge a complaint with the competent supervisory authority (Art. 77 GDPR in conjunction with Section 19 German Federal Data Protection Act (BDSG)). The competent supervisory authority is the State Information Security and Privacy Office for North Rhine-Westphalia.
Your contact person for the above rights is the CLAAS Foundation.
XIII. Consent
If the CLAAS Foundation processes your personal data on the basis of your consent, you have the right to withdraw consent at any time, but this has no effect on the legitimacy of the processing carried out on the basis of your consent prior to its withdrawal.
XIV. Changes to this privacy policy
This data policy will be reviewed whenever changes are made to the website or when a review is needed for other reasons. The current text of the policy is always available here.
Harsewinkel, May 2018